SPIRITUAL dish.

Diwan Diwan-HAFIZ


Abdul Hadi W.
M.


Diwan


1

Joseph is missing from the earth of Canaan

Will return: do not grieve!

Do not grieve!
In sad

Roses will bloom from the bottom of this floor

And in the face of the punishment secret

Hearts would bow front

O aching heart, joy will come

O brain Damailah you ragged

Because of love, but do not grieve!


Once again the Spring of Life

Give flowers on a green meadow, do not grieve!

And the night wandering head

Spending rose, petal by petal!

Secret world would you find

But behind the curtain of fire of love burning

Why should mourn?

Expectations will return, do not grieve!


Today's run away, run away tomorrow

Before you give me the spinning wheel and fulfilling my heart

Heaven itself will change

Do not curse fate

Hajj delegation arrived in town nearly Mecca

Cactus thorns hurt to grate

Desert bloom again, do not grieve!


From the river of life which is perishable, hear

The thunder of what surrounded the house until the tilt?

But do not grieve!
Noah will be nakhodamu

And will save your ship to shore

The purpose is still far away, the road fraught with peril

But every path to the same place

Where are you going to lower the load, do not grieve!


My enemies have keep me and punished me

My love turned around and left the door

God carefully calculate our tears

And know that we also suffer:

Ah, do not grieve!
God has heard

If the pain comes and the night you go under

Hafiz, take the Koran and read

Maha timeless songs, do not grieve!


2

Broke red roses, the nightingale drunk

Sufis, wine lovers!
Let's welcome this announcement

For the thirsty earth, the wine has come

Regret the old O stony

See this miracle!
Moment

You destroyed by melting glass of wine


No matter the king or the palace porter

Come on, bring the wine here, hidangi them all!

The drunk and the wise, serve them well

If the party is already over crowded and late-night added

Wine shop two doors wide open Similarly

Low, high, had to bow their heads

Near the door of life, for without it no nothing


Except through the perilous road

No one came to stop effervescent

The Lord said: Did I not your Lord?

With doubt you say: Oh, yes!

Do between Yes and No are you pacing

With the new Yeah you're safe

And if not you will perish


Sublime Asaf, horse racing space flight

And this bird language, everything will vanish in the wind

That he masters those who have died

When he left he had none left on Earth

Do not fly off the road with feathered wings

Too fast shooting arrows from his bow

Arrows into the gutter will fall

But you Hafiz, Tongue

Saying through the mouth of the flute

What reward you if ghazalmu supply

From lip to lip, what will be singing the song?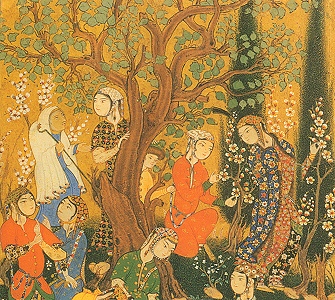 3

The wind from the east, o Bird Day

I sent you on boyfriend, though far

The road to Saba, please do not complain

Never in the dust wing liarmu terhantar

Do not be crushed by sorrow, I sent you to a nest of Allegiance.

Far or near no places to stop

Love in the street - I saw your face, do not look

Mendesirkan blessing and song of wind in your ears.

North and east winds menghembuskannya

Every morning a caravan of grace and I sent congratulations to you.


You stranger to my eyes

But you're a friend who is always present in my heart

Everything that came out in prayer and praise I sent you

Do not be sad caravan that came to conquer your heart

I sent my life to bring back peace to you

As a ransom.
From penyanyimu I learned

How can people who miss you cried and raged his heart:

Rhyme and words that crushed, songs and musical tone I sent you.


Give me the cup!
Noisy voice sounded in my ears

"Be patient friends take years to torture

To send the blessing of heaven sakitmu

God the Creator is reflected in your face

Your eyes will see, the shadow of his was in the cup

I sent it to you.


Hafiz!
No one heard a compliment

Come here, O you who mourn

A pair of honor dress, saddle horse I sent you.


4

Glory to God, how happy I was last night

Has met Lover

I bow down in front of his face beautiful

Kuhamburkan praise, indeed

Fascinating what I did last night

My life is dead branch grows again

Menunas twigs, because his encounter with


I'm glad, glad, to meet with him last night

Let the blood-soaked earth

Stay I say Ana al-haqq such as al-Hallaj

Because I met him last night

And in my hands tightly grasp

Laylat al-Qadr letters

Because the conscious met him last night


Padulah now my heart is longing for the road

Entrance curtain that separates me with his

Although the head should be divorced from the body, last night

And I say: Lord, You are the owner delicious

Zakat is impossible to accept that

Please give me now

Because I met with him last night


O anxiety, do not be afraid

You will be lost plane turbulence

And Hafiz, the former dissident

Has now repented for his girlfriend met --

God, last night.


5

Her hair was, his lips laughing

Drunk party sweat highway

He comes, sing of love, clapping his hands


Wrinkled face and the cloth was thrown

Last night he was staggered by my bed

Her lips were full of complaints


I saw sadness in his eyes fighting

When he whispered,

Are there any of our old love has been sleeping?


Before dawn, give him wine

It was a lover kafirlah

If not with the wine loving


6

In the green meadow I see the sky the new crescent moon

Remember my time to plant and harvest, said:

O Lucky, you're sleeping and the sun flower

Answer was: Do not fragile like the past.

If you leave without a stain and his own

Like Christ to Angkasa Raya

Keajaibanmu will touch the sun.

Do not believe in across the night

Because he had stolen the crown T-shirt and belt Kaykhusraw

While your ears were heavy with gold jingle

Beautiful season gone - to hear the advice!

Can the evil eye away from the mole charms

If the beauty of the chess board he moved a pawn

And get a gift from the moon and sun.

Can not sell the greatness of the sky is

If in love harvest time comes, given the month

Grain of corn and two grain for Suraya stars.

Hypocrisy fire carpenter tapa

Harvest will char religion.

Hafiz!
Throw your cloak and go.


Abdul Hadi W.
M.


Note: T-shirt and is Kaykhusraw Persian overlord

the mashur.